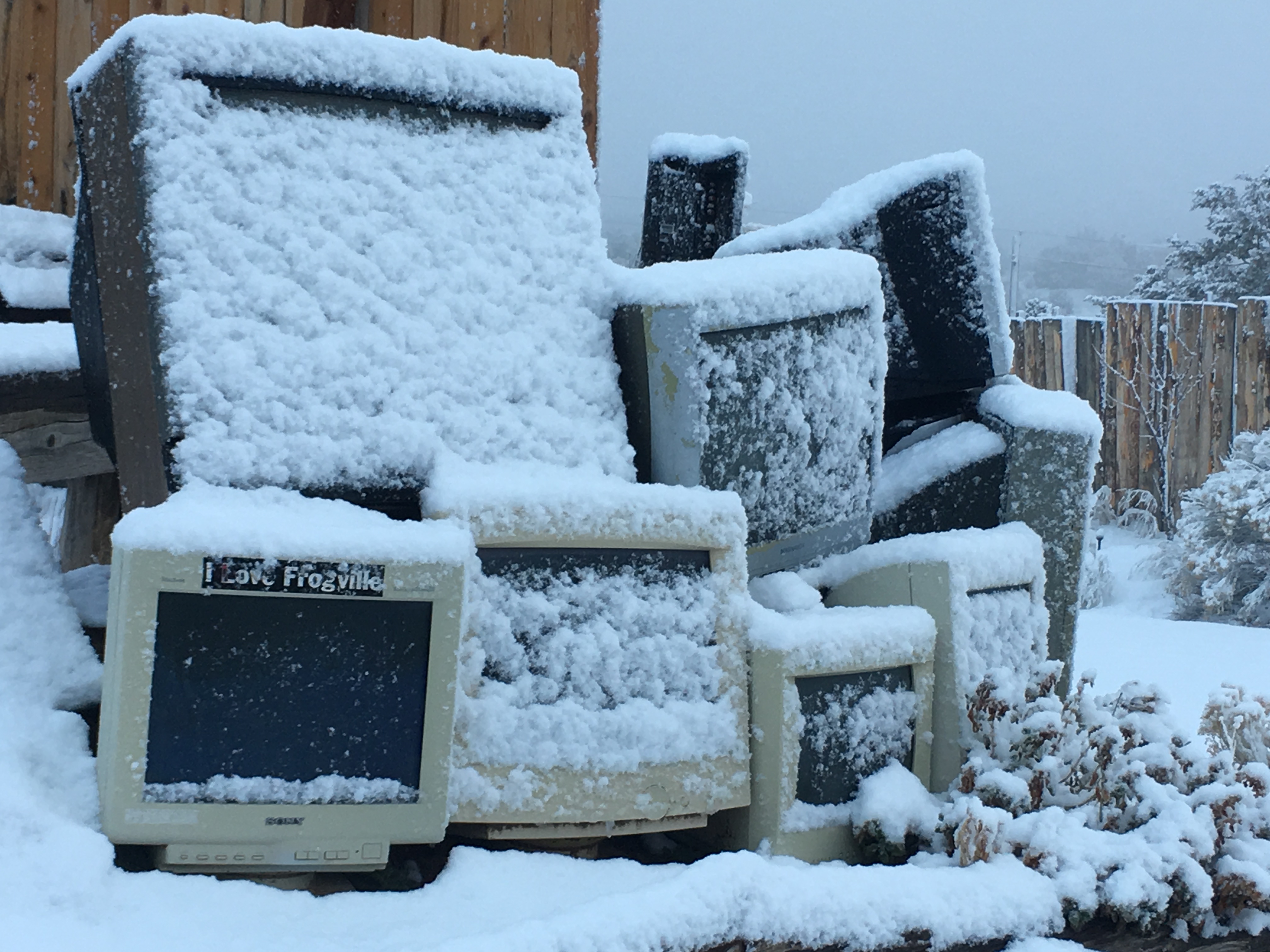 History of Frogville
Dead Tech Gathers Waiting for the Storm
Frogville is an award winning co-op of musicians, songwriters, painters and photographers that has been amazing fans since 2003. The Frogville recording studio has the best drum room around and all the analog gear, microphones, pianos, keys, tube amps a band needs to make a great record plus we have a bunk house upstairs that sleeps 5-8 comfortably all on top of a hill overlooking Santa Fe. Frogville has been nominated for dozens of  New Mexico Music Awards over the last 15 years and won 17 awards including album of the year twice, best recording engineer twice, best rock album five times, best country twice, best Native American twice, best folk, best religious/gospel and we still have room to grow.
JC Treadwell moved to Santa Fe in 1989 to study visual arts at the College of Santa Fe and spent spare time following the Grateful Dead. 1998 Treadwell discovered a local folk jam band called ThaMuseMeant and followed them around for a few years and made friends enough to get on the bus for a few months to film a documentary about the band called "Movin' by Lovin'". 1999 Treadwell purchased a small 900 s/f adobe on a hill overlooking Santa Fe that would become the Frogville recording studio in a short few years.
Frogville as an original concept came together in 2002-2003 based around a co-op of musicians, artists and photographers around Santa Fe to form an independent record label to support these bands and a recording studio to capture the magic. Visual artist and music lover, JC Treadwell started the label and recruited Nathan Moore as pied piper to lead the acts here and Bill Palmer employed to try and get a handle on the recording process. They took to it like ducks to water. Treadwell gave his house slowly over to the project as he researched analog gear and wrote all the checks as the classic collection of instruments and high end analog audio gear grew to be the envy of every home studio in the region.
Early success with Joe West's South Dakota Hairdo won the New Mexico Music Awards for best rock album of 2004, Hundred Year Flood was exciting people of all ages and Thamusemeant's reunion and subsequent release Silver Seed brought hope to all our independents. Later success with Nathan Moore's In His Own World's and You, Yeah, Smokin' Hot spent 25 weeks on the Americana music radio charts top 40 but without a distribution network of brick and mortar Frogville just couldn't sell enough product to hit the profit zone. Nathan moved on to greener pastures and took his digital catalog with him a few years after ThaMuseMeant broke up. After a couple of run ins with a pirate producer who stole the masters and tried to ransom them back to them, the Hundred Year Flood broke up. Joe West and Boris McCutcheon are still going strong and from HYF miss Felecia Ford is working on new material, but without OPM or VC capital the label is just surviving.
Musicians who have recorded at Frogville Santa Fe in no particular order…
Bob Andrews, the Long Gone, Alfa Valova, Jeff Nelson (Cameo), Steve Kilbey (the Church) & Amanda Kramer (Psychedelic Furs), Andres Cantisani, JJ & the Hooligans, Lone Pinon, Lonesome Band, Palm in the Cypress, Pat Burns, Red Light Cameras, Russell James, Felecia Ford, Kevin Zoernig, Patrice Pike and Wayne Sutton, Mariachi Sonidos del Monte, Ornetc, Angola Farms, Garry Blackchild, Kali & Rama, Kung Fu Grip, Aimee Curl, Key Frances, Brian Hardgroove (Public Enemy), Jono Manson, John Popper (Blues Traveller), the Hollyhocks, Adam Griffo, George Whitsell & the Rockets (Crazy Horse), Pete Amahl (Natalie Cole, Bob Dylan), Mark Clark, Jamie Cohen, Mary & Mars, Josh Martin, Ben Wright, Sharon Gilchrist, Bobby Notkoff (Rockets, Crazy Horse), Warren Furst (Fuggs), Will Sexton (Charlie Sexton), Carlos Lomas, Jack Handy (SNL), Ryan McGarvey, Nolatet, Brian Haas & Matt Chamberlain, JFJO Jacob Fred Jazz Odyssey, Jim Keaveny, Nathan Moore, Joe West, ThaMuseMeant, Boris McCutcheon & the Salt Licks, John Courage & the Great Plains, Frankie Boots & the County Line, Taj Mahal, Shannon McNally, Johnny Gimbal (Bob Will's Texas Playboys), Hundred Year Flood, Son Of Hwéeldi, Lonesome Doves, Terry Diers, Country Blues Revue, Bill & Bonnie Hearne (Lyle Lovett, Joe Ely), Bill Hearne's Roadhouse Revue, Santa Fe All Stars, Doc Martinez, Highway Poets, John Homer, Anthony Leon & the Chain, Loren Haynes, Eric George & Man No Sober, the Imperial Rooster, Saving Damsels, Val Kilmer (Batman), Gary Farmer & the Troublemakers (Dead Man, Neil Young), Taarka, Santa Fe All Stars, Goshen, Felix Y Los Gatos, Saltine Ramblers, Peacefield, Pigment, Melanie Zipin, Stephanie Hatfield & Hot Mess, Tommy Stephenson (Joe Walsh), Bill Palmer, Bill Palmer's TV Killers, Beaver Thomas, the Sharecroppers, Squash Blossom Boys, Drastic Andrew, Broomdust Caravan, Paula Rhae McDonald, Max Pelta, Xoe Fitzgerald, St. Range, JJ Otero, Innastate, Fred Shumate, Don Richmond, Wildewood, Naiz Denae, Gerald Burkhart, Greg Grymes,  Tim Relleva, Nathan Hamilton, Porter Draw, Three String Bale, Marcus Cordero, Consuelo Luz, Joaquin Gallegos, Michael Kott, Saltine Ramblers, Round Mountain, Yasmin Radbod, the Yoties, Zenobia, many many more and you.