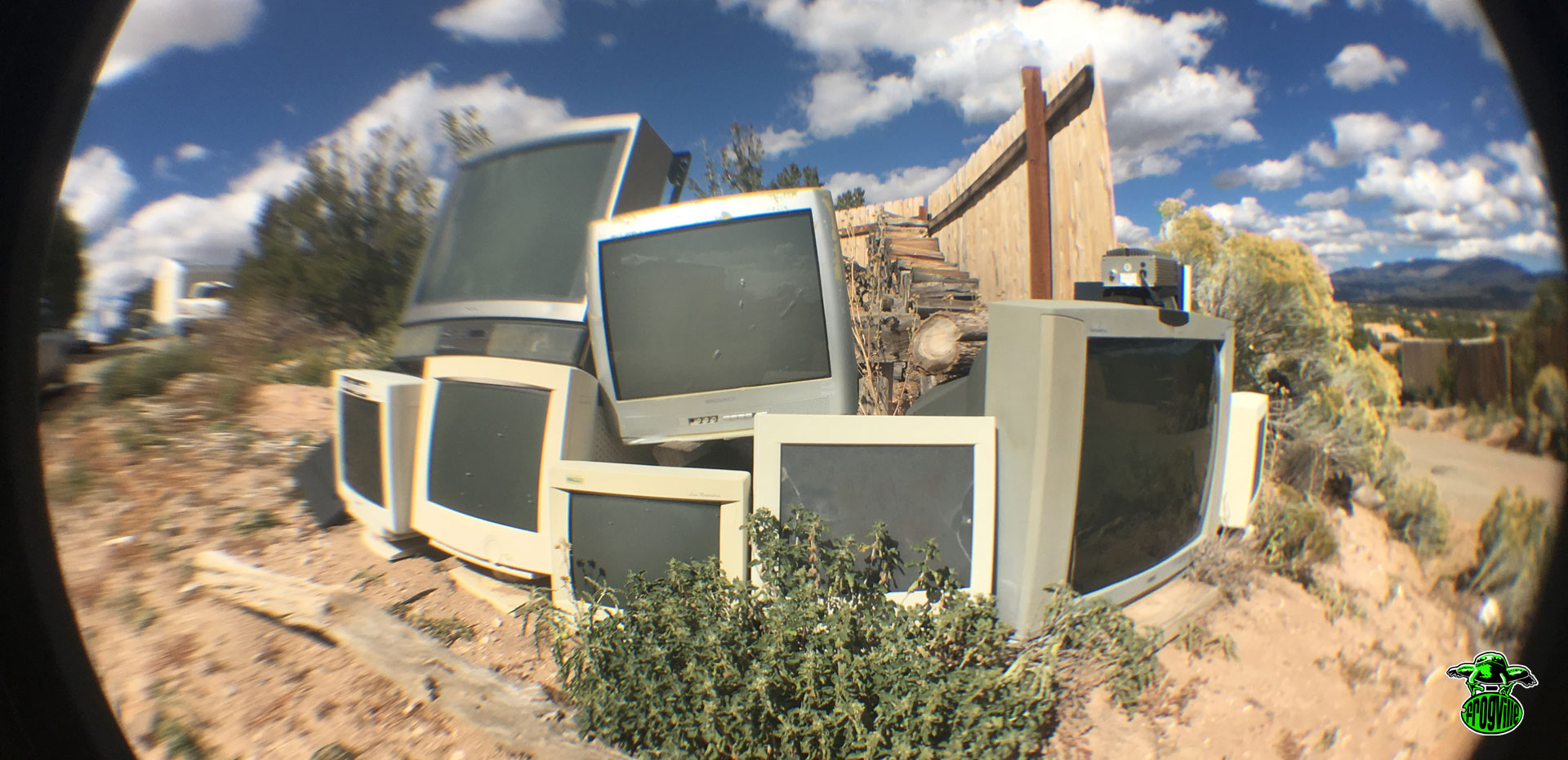 Dead Tech Gathers Waiting for the Storm
Frogville started as an idea around 1998 but didn't come into fruition until 2002-2003. Visual artist and music lover, JC Treadwell moved to Santa Fe in 1989 to study studio arts at the now defunct liberal arts College of Santa Fe. There he discovered a plethora of talented unsigned musicians and songwriters of uniquely original music who were having a hard go at the art without patronage. Around 2002 after a couple of unsatisfactory recording studio adventures around town and doing the math John thought it would be more economical to build their own studio on his property where time would not become a detrimental issue to the creation process.
Soon Frogville was hopping with not only bands signed to the Frogville independent record label imprint, but as news and music spread, other bands wanted to get the Frogville recording experience. From 2004-2006 were the labels most financially productive years as the music industry floundered, Napster taught the kids music was free and stealing is fun, and we were long into the music industry death spiral from 2001- on declining revenue streams, the demise of mom n pop brick and mortar distribution, and today the streams, oh, the convenient streams that pay .007 cents… don't get me started.
JC Treadwell financed the entire operation on a meager inheritance making the first mistake in business adventures, finding and using OPM, other people's money. If JC had teamed up with a group of Venture Capitalists and everyone had matched funds, the label surely would have seen more success with any kind of marketing plan or budget of which they had none. Many musicians will use you until the money runs out and drop you like a hot horseshoe to look for another patron / investor, rinse and repeat. JC was under the illusion he was building a family of musicians that would stand together through good times and bad…..
In 2006 Thamusemeant broke up / retired for the second time, just months after their second Frogville release "never settle for less" after the semi successful "silver seed" 2004. Then around 2009, after he recorded "you, yeah, smokin' hot", a year or so after a wildly successful "In His own world's" spent 125 weeks on the indie radio charts, songwriter Nathan Moore split from Frogville for any label with a marketing budget and took the digital download rights with him leaving Frogville in a real bind after financing Nathan's recording adventures for several years and re-releasing his entire back-catalog on the label over the years.
Along the way we lost the Hundred Year Flood broke up after JC financed 5 albums/cds and Goshen retired after a 2nd release and the label looked doomed for sure. But Frogville had picked up some greta acts along the way Joe West and Boris Mccutcheon and miss Felecia Ford and had begun to record bands in the studio from Texas, Oklahoma, Colorado, California, Arizona. JC could see the writing on the wall for the label and began to invest everything into the studio. In 2009-2010 Frogville got a loan to expand the footprint of the studio and added almost 3000 square feet of new construction wrapping around the original adobe 2 story house sitting on a hill overlooking the city of Santa Fe and it's 360 degree mountain views.
Frogville studios have won dozens of New Mexico Music Awards and have satisfied hundreds of bands / musicians with our recording process, tones and sounds and finished product, love the laid back stress free environment and our friendly knowledgeable and extremely talented engineers with great ears and pro tools skills, we work with not enough time and not enough budget too much to waste anyone's time, we are fast because we have to be. Frogville can record it as fast as you can play it.
We got into this thing because we love the creation process, love helping artists bring ideas into reality, and we just really love the music, it was never about the money beyond paying the bills and trying to survive. We are not in the music business, we are in the music Love-ness.