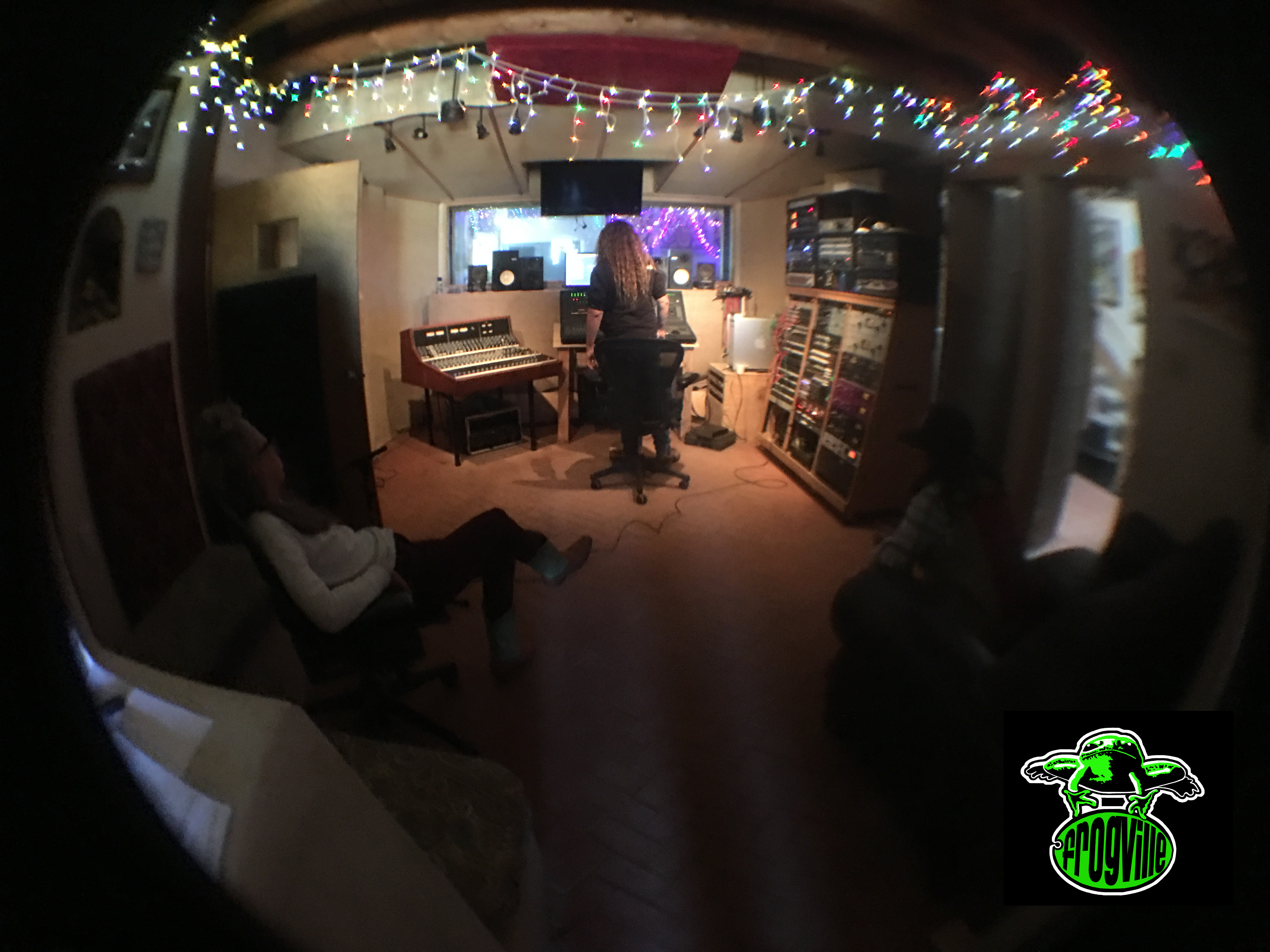 Why You Should Record at Frogville Studios
Everyone is searching for experience and experiences, and if you are a musician, band or ensemble recording, capturing this moment in time at Frogville IS that pearl of wisdom many search for all eternity, you can live in the studio while you learn. Frogville is right up here at 7000 feet above sea level nestled in the foothills of the Rockies in Santa Fe, New Mexico, USA.
Since 2003 Frogville has been helping artists record original music, we have years and 100's of projects under our belt.
Tell your booking agent to book your tour through Santa Fe, leave a 3-5 day gap and continue booked tour with a new record in the can.
Upstairs Bunkhouse available for touring bands' recording sessions.
The room you record in is critical and we have a great large live room, possibly the greatest drum room ever built.
We have all the classic analog gear you might need to record a world class album's worth of material.
Frogville has an excellent and growing microphone closet AKG, Coles, Neumann, Sony, RCA, Lg, Small, Ribbon, dynamic, condenser…
We have helpful, friendly musician engineers who are highly skilled and knowledgeable used to too much work and not enough budget which makes us fast and efficient, we can record it as fast as you can play it!
Frogville studio with engineer 80/hr
Lockout day rate with engineer 6 hrs/ 400
Lockout 24 hrs with bunkhouse / 750
weekly rates available
Sliding scale. What is your budget? We would rather record you than not record you, so how can we make it happen?
Songwriters and musicians often ask us too put together a band for them or find extra instrumentalists to spice up their tune, we know every musician within a hundred miles and can find you a horn section or a violin or cello or a bagpipe or whatever… we can find them for you. expect to pay hired musicians 100$ each. some per song. some per session.
Several hundreds of good talented people have deposited good creative vibrations into the bank up here at Frogville and we are brimming with good vibes and aces up our sleeves.
Santa Fe has unique creative energy as does the hill at Frogville studios at 7000 feet above sea level and in the high arid desert surrounded by three mountain ranges at the foothills of the Rocky Mountains. Get out of your comfort zone and into ours. 3 acres private land with 360 degree views.
The Big Room at Frogville is unique, roughly 26 x 36 with a 17 foot ceiling. Adobe earth walls and the wooden viga beams of ponderosa pine that make the ceiling give us a unique sound. THE BEST ROCK DRUMS ROOM EVER. We have an awesome room for recording and that's more than 90% of the studios in the world can actually say. Everything sounds great in there, horns, strings, full bands even a whole Mariachi or a seven member marimba band… anything. We also have a dead vocal booth, an amp room, 2 bathrooms, kitchen, laundry, etc…
Tons of goodies here, from the all analog front end of classics to the Hammond C3 that came from Chuck Berry's Memphis studio to the classic 1957 German EMT 140 plate reverb that was at RCA/NYC until 1971 when it moved to the west coast to Wally Heider, among our 40 vintage tube amps we have a Marshall Plexie super bass 100 (loved by Duane Allman and Jimi Hendrix), a brown face Princeton and a plethora of rare and textured tones are available for that second guitar part or whatever.
Neve, API, UA 1176's, LA2A's, LA3's, Pultec, Neumann, AKG, Gibson, Fender, Marshall, Airline, Silvertone, Oahu, Valco, Magnetone,
Pianos, Wurlys , Rhodes, Hohner Clav C, Hammonds, Leslies, plate reverbs, amps etc… we have all the heavy stuff.