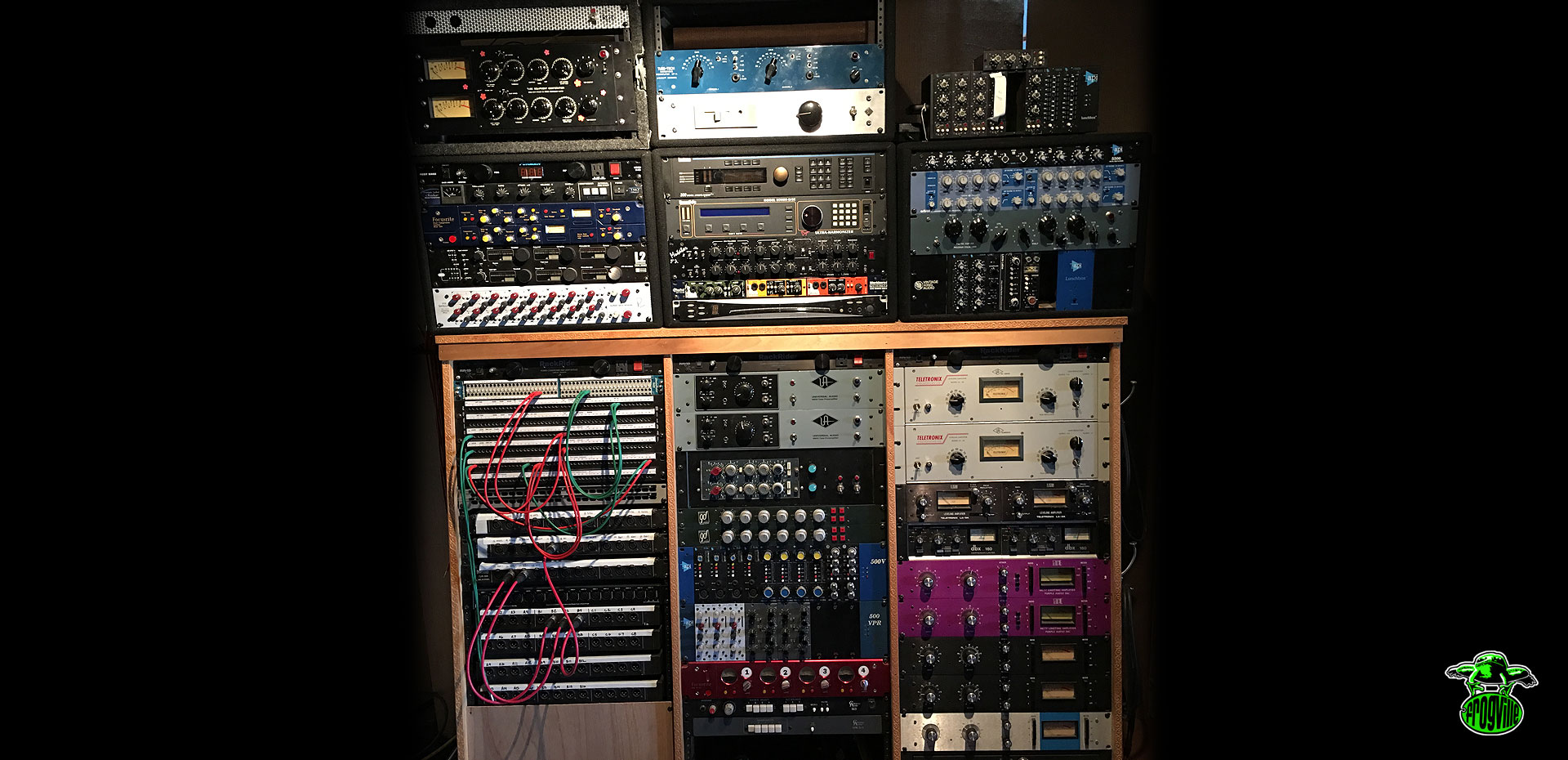 Heavy Vintage Analog Front End with most of the usual suspects.
The Big Room is grand with a 17 foot ceiling and the Motown 1 second reverb giving the perfect live sound for and voice or ensemble or strings or a full mariachi band with horns or any rock band who wants to record live and get the biggest, best drum sounds you have ever recorded.
We have an isolated vocal booth, an amp room filled with vintage tube amps, mic closet, under the stairs… there are many places to stash / mic amps for separation in order to capture the magic for the best live recording possible.
For the artists Frogville has just upgraded to a 16 channel personal headphone mix system so everyone can dial in just the way they each want it, click or no click.
Did I mention the upstairs bunkhouse that sleeps 5 adults or 8 hippies comfortably, laundry, kitchen, views..?
Analog Front End
GEAR
Yamaha NS10
Yamaha HS8 + HS8S sub
horror-tones
Coleman monitor switching
Console
1974 API 1604 modded to a 1602 by Steve Firlotte with 16 channels ** plus racked 8 ch API 4x 512c / 4x FD312/WHR4 Wally Heider gives us 24 channels of API at one time.
Focusrite Control 24 Pro Tools controller with Flying Faders
other preamps
Telefunken V72 tube preamp**
2x Neve 1084
3x RND 511
2x AML ex1073
2x Geoff Daking Trident A range
2x AEA ribbon pre
4x Focusrite Red 1
2x UA M610 tube pre's
2x Tube Tech MP1a **
RND 5059 satellite summing bus w/inserts
API 5500 stereo EQ
Pultec EQP-1S3
Orban 642b para EQ/notch filter
5x 1176 (purple mc77(2xF)/HB (2xD)/HB Blue stripe(1xA))
2x LA2A
2x LA3
2x DBX160VU
Tube Equipment SR71 stereo tube comp**
2x Focusrite Blue 230 st comp
2x Dramastic Obsidian
2x L2 Waves ultra maximizer brick wall limiter
Effects
Lexicon 300m reverb**
1957 EMT 140 tube plate reverb Famous Pedigree NYC/RCA/WHSF mono in stereo out
H3000 D/SE kitchen sink options
Mutronics Mutator s/n 001
Radial tank driver
Radial Xamp reamp
Radial EXTC reamp
Microphones
Neumann U87 1968
Neumann TLM49
Peluso P-84 (2) (KM84)
Neumann clone CMV563 (2) with vintage M7 lollipops (2)
Lucas CS-4's #92/93 (2) U47/U48 ish
Sony C500
AKG c414EB p48 (2)
AKG D12
AKG D112
Sennheiser MD409
Sennheiser MD421/2 (2)
Sennheiser MD441
EV RE20
EV RE16 (2)
EV RE11 (2)
Shure sm57 (10)
Shure sm58 (3)
Shure KSM32 (2)
Shure Sm7 (2)
Shure Sm7b (2)
Coles 4038 (2)
Toshiba G (RCA 77) (3)
Blue baby bottles (2)
MBHO cardiods/hypercards (2)
Placid Audio copperphone
Pedals
Bixonic expandora original OD
Boss CS2 compression sustainer
Boss CS3 compression sustainer
Boss CEB3 bass chorus
Boss TU3 chromatic tuner
Boss HM2 heavy metal
Boss DS1 distortion
Deltalab SC1 stereo chorus
Digitech death metal
DOD overdrive 250
Dunlop Fuzzface  Dallas Arbiter
Durham sex drive
Fulltone 70
HAZ mu-tron III+
Leslie pre amp II for 9pin Leslie
Maestro PS-1A phase shifter
Marshall EH-1 echohead delay
Mister cry baby
Menatone 7 knob howie dumbletone
Radial Tonebone  bass bone
Tech 21 sansamp
Trainwreck Airbrake attenuation
Washburn AD9 analog delay
tone bakery cream fraische
EH Qtron+
EH LPB1
EH Bi Filter
Multivox tape echo
Roland Re-201 space echo
AMPS
Bass
vintage Ampeg portaflex B15
modern Ampeg BA115
Kustom model I-B**
Guitar
58 Airline 2×12
58 Airline 1×12
59 Airline reverb tank
64 Alamo tube amp
Fender black face Bandmaster
Fender black face Bassman 80 watt mod in blonde cab
Fender 62 Brown face Princeton vibrato
Fender 63 tube reverb tank
Fender 63 reissue reverb tank
Fender 65 vibrolux reverb**
Fender 65 Princeton reverb reissue
Fender black face super champ 82 Rivera
Gibson Falcon
Gretsch 55 electromatic deluxe
Magnatone  59 413
Magnatone 60 411
Marshall 68 Plexie super bass 100**
Musicman 75 210
National 58 valco
Oahu 47
Silvertone 59 1330
Silvertone 59 1332
Silvertone 59 1336 tube head
Vox 66 tube cambridge reverb
various 1x 2x 4x speaker/cab options
Keys
Rhodes 73
Wurlitzer 206A
Hohner C3 clavinet
Hammond C3 + Leslie rotating cab (from Chuck Berry's Memphis studio)
Hammond A100
upright 1876 roadhouse
1940s baby grand
Baldwin electro piano
microKorg
usb keys for midi etc..
Roland TR8s drum machine
Drums
65 Ludwig 22 kick 2x 18 floor toms, 66 supraphonic snare**
90's Slingerland 1off PE/Gibson 24kick 18 floor tom ,rack toms, snare ( 1-off from Public Enemy Singerland/Gibson cross promo)
cymbals basics
vintage 14″ hi hats, 60's ride, 60's crash
vintage RCA boom stand**
Guitars
Martin 018 1950
G&L F100 active pickups
Gibson les paul studio p-90's
Squire tele ugly but awesome
Fender P-bass
Digital Back End
while we continue repairs to our fleet of 1″ 16 track reel to reels…
ProTools 8 HD2 / PowerMac
2x 16ch Lynx Aurora AD/DA = 32ch live
Focusrite Control 24 controller with flying faders
Glyph hard drives
** not owned but on loan to Frogville studios